09.01.2013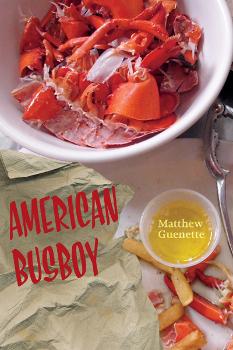 My poetry guardian angel Mary Biddinger, author of Prairie Fever, St. Monica, and O Holy Insurgency, tagged me for The Next Big Thing, a series of self-interviews. Here are responses regarding my second full-length collection of poems, American Busboy, which was published by the University of Akron Press in late 2011.
What is the working title of the book?

American Busboy.
Where did the idea come from for the book?

In the mid-90s I bused tables in this gigantic (apocalyptic) warehouse of a fast-&-fried seafood restaurant. I was in my 20s, the reckless days! And the restaurant–with its stable of odd and funny characters and endless madness–seemed to embody all that recklessness. Once I wrote a few poems about the experience, I accepted the challenge: could I write an entire book of poems from a busboy's perspective? The more I wrote, the more these issues of class, socioeconomics, and identity emerged, along with this voice, blue-collar in its sensibility and sense of humor, that had been with me it seems my whole life. Each poem became a momentary stay against the larger forces that align themselves against unskilled labor.
What genre does your book fall under?

Poetry.
What actors would you choose to play the part of your characters in a movie rendition?

I picture the head busboy played by someone like a young Paul Rudd, who can do that dimwitted, smarmy cool better than just about anyone.
For the busboy, maybe Michael Cera.
The waitress that busboy has a thing for could totally be played by Pauley Perrette.
I feel like I'm messing this up…American Busboy needs a casting agent.
What is the one sentence synopsis of your book?
The amazing Lee Ann Roripaugh summed it up beautifully:
"In American Busboy, a wry anti-mythology, the anti-hero busboy in an anonymous Clam Shack! tangles with the monotonous delirium of work, the indignities and poor pay of unskilled labor, the capricious deus ex machina of mean-spirited middle management, the zombified consumption of summer tourists, while jostling for the goddess-like attentions of waitresses and hostesses—all battered up in sizzlingly crisp wit and language, and deep-fried in a shiny glaze of surrealism."
How long did it take you to write the first draft of the manuscript?
I wrote the first draft in the six weeks right after my son was born. Monday through Friday, three hours a day, 8 to 11 a.m., I worked in these incredibly focused bursts because the rest of my time was devoted to the increasingly surreal dimensions of fatherhood. But that played a part too. I often thought of my son while writing. I kept imagining him reading American Busboy one day, and the last thing I would want for him to say is, Dad, you didn't try hard enough…
Who or what inspired you to write this book?
The fantastically quirky cast of characters at Newick's in Dover, NH. Also, Richard Brautigan's Trout Fishing In America. American Busboy is a direct rhetorical engagement with that book. Many of the poems still retain direct ties to specific chapters and make similar use of Brautigan's aesthetic and comic sensibilities.
What else about your book might pique the reader's interest?

American Busboy stays crunchy in milk, it fights bad breath, it will tone your legs, it's made from real lobster, there's more to it than you think…
Will your book be self-published or represented by an agency?

American Busboy was published in late 2011 by the incredible University of Akron Press.
My tagged writers for next Wednesday are:
Brad Liening (wailing on his saxophone)
(my poetry soul sister) Traci Brimhall
Kyle McCord (the sweetest man on earth)
Hannah Rebecca Gamble (her poems make me feel dirty in a good way)
2 comments
leave a comment