25.11.2013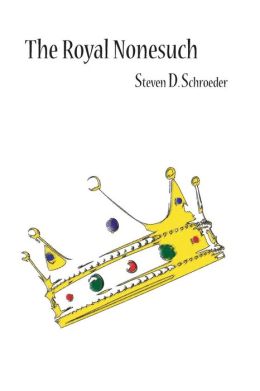 The idea
is the outlook, the sense
that we have seen
with some
focus on how
and what is…
***
I have turned out to be a royal pain.
***
"The Straightway Was Lost," first poem in Steven D. Schroeder's The Royal Nonesuch (Spark Wheel Press, 2013), begins like this—
My best stories all start the wrong direction
on one-way streets. For more information
on parallel parking structure, try the libraries…
—That how-the-hell-did-we-get-here feeling, is it fast talk? Set-up for an epic fail? Schroeder's vision is tragicomic; the adventure of each poem is the rivering language, like in that "parallel parking structure" and "libraries" line, which seems to say if you want to know more, go read (great advice!) but also if you want order or the facts, look someplace else (welcome to poetry!). 
Some of the lines that follow—
…My work turns workers to words they worry
and revert to cryptograms for moot
or middle-name palindromes I forgot…
—and—
…You could hear we're post-apocalyptic
if your ears blister in the next eclipse…
—make me go what? But also what beautiful nonsense! (the nonesuch?) And I wonder if maybe these moments make sense mostly as sound. I also wonder What is this poem like? Punk or rap in some ways, but also the wordplay and slick end rhymes and sort-of-sonnet form remind me of Nick Demske's Nick Demske and Michael Robbins' Alien vs. Predator, both of which are a blast not just to read, but to hear.
Schroeder's book at its best is a book like that, and how that opening poem ends,
Has-been has to be my last excuse.
is pretty bad-ass. Has-been doubling as bridge to being (to being alive), but also in its meaning meaning it hardly matters, our insignificance. The straightway is lost, and that is our way, our kingdom and inheritance. We go there to be found.
***
Some palindrome names: Hannah, Otto, Anna, Eve…
***
The foot's desire to stand.
I know that much.
Maybe not.
(These are first thoughts…)
Now I feel like paint
loaded up
on the brush
in the hand of confusion.
That's been
the point all along.
***
From The Adventures of Huckleberry Finn:
AT THE COURT HOUSE!
FOR 3 NIGHTS ONLY!
The World-Renowned Tragedians
DAVID GARRICK THE YOUNGER!
AND
EDMUND KEAN THE ELDER!
Of the London and Continental Theatres,
In their Thrilling Tragedy of
THE KING'S CAMELEOPARD,
OR
THE ROYAL NONESUCH ! ! !
Admission 50 cents. 
LADIES AND CHILDREN NOT ADMITTED
***
Between you and me, hermano: Give me the address of your difficult, patronizing, ridiculous "you're doing everything wrong," depressive, neurotic faculty mentor who seems to view you as a threat and I'll wrap their car and toilet paper and leave a flaming bag of turd on their porch.
***
Schroeder's at his best in a poem like "A Familiar Conversation."
Press 1 for a conversation void
wide enough to drive a bus through,
too long to drive the distance home
with a hammer. Press 2 for a voice
based on the graveyard, for advice
longer than rusty knives. To home
in on misuse of hone, say missile
and press the issue but not the button,
or vice versa. To escalate the explosion,
say nothing. Regrettably, the last word
is unavailable. For I'd better let you go
to suggest you'd better let me go, press
oh, don't say love and stay on the line.
The consciousness in this poem is particular and identifiable: the voice of a telephone operator—the pre-recorded voice of assistance (laughable in light of the situation)—with instructions for how to break-up over the phone, a move generally considered bad form except when the relationship is long distance, as this one seems to be. The operator offers some initial choices—"Press 1…Press 2…"—but neither seem particularly appealing. From there the operator gives instructions for how to "escalate the explosion," for how to make "I'd better let you go / to suggest you'd better let me go," a cruel (and perhaps for the caller crucial) bait-and-switch (the "turn"?) of agency. In the end the operator leaves our advice-seeker in limbo—"don't say love and stay on the line"—an endless ending (it's what the poem wants us to understand) and a moment of lyric intensity made possible by its narrative frame.
This poem's energy generates from its formal experiments—the 13-line evocation of the sonnet, its diction and rhyme and generative wordplay. The poem's content, its points of reference—a telephone operator, a break-up—would be common enough situations for a reader to relate to. But I think how a reader actual reacts and relates to the poem has more to do with its form, its formal effects, than with the situation itself.
***
What Kind?
the kind
that r
equires
seriou
s
conto
rtions
***
When I wonder what questions I should be asking, I try to notice things then go from there.
***
The play The Royal Nonesuch, from Huckleberry Finn, is a con. The "king" comes out on stage naked on all fours, painted up in various colors, painted in stripes and spots. He prances around like a fool while the crowd roars with laughter, and that's it. That's the whole show.
***
Schroeder paradoxes the themes in his book—a father figure who is by turns disappointing and absent; struggles with drinking and struggles with relationships; struggles with being—with a comedic timing and fiery wit. The choices he makes draw us along a sharpening edge. Even poems that fall short, that struggle with even their struggle to make sense, do so on terms that are clearly Schroeder's. But I think the strengths outweigh those moments. The gifts in The Royal Nonesuch are its faith to a tightly patterned approach, and the experience it offers of re-appropriated language reanimated in the mix.
***
Have a happy Thanksgiving everyone!